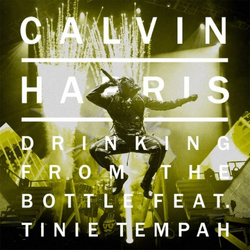 "Drinking from the Bottle" is a song by Scottish singer-songwriter and producer Calvin Harris from his third studio album, 18 Months. The song features English rapper Tinie Tempah and will be released as the album's sixth single on 27 January 2013. It has thus far peaked at number five on the UK Singles Chart.
Music video
Edit
A lyric video to accompany the release of "Drinking from the Bottle" was first released onto YouTube on 2 December 2012 at a total length of four minutes and one second. The official video was uploaded to Harris's YouTube's account on 21 December, after being filmed in the first week of December 2012.
The video is extremely explicit. It starts off with actor Brad Dourif, as the devil, speaking to his friend "Patrick" (dressed as a wizard). He says "I fucked Joan of Arc in 1430. She was just 18. Just a few months before she burned." The rest of the video features Harris and Tempah in a dark room with scantilly-clad women, with Harris sitting inside a car and Tempah outside it. There are also scenes of drinking, drugs, violence, arson, sex and nudity, and the Harris and Tempah meeting up with the devil.
Critical reception
Edit
Robert Copsey of Digital Spy gave the song a positive review stating:
"With lyrics about necking booze from buckets with sparklers, name-checking Rihanna, the Kardashians and, erm, Danny DeVito as well as a ravey breakdown that you could set your watch to, they've ticked all the necessary boxes for an easy chart hit. "I know this crazy life can be a bitter pill to swallow," he continues, prompting our weary response: "Go on then, one last time won't hurt us... right?"
Tracklisting
Edit
Digital download
"Drinking from the Bottle" (featuring Tinie Tempah)
"Drinking from the Bottle" (Andy Light Remix)
"Drinking from the Bottle" (Extended Mix)
Credits and personnel
Edit
Lead vocals – Tinie Tempah
Producer – Calvin Harris
Lyrics – Calvin Harris, Patrick Okogwu, James F. Reynolds, Mark Knight
Label: Columbia, Deconstruction, Fly Eye
Release history
Edit
| Region | Date | Label | Format |
| --- | --- | --- | --- |
| United Kingdom | 27 January 2013 | Deconstruction, Fly Eye, Columbia | Digital download |