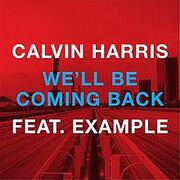 "We'll Be Coming Back" is a song by Scottish Producer Calvin Harris from his album 18 Months. The song was released as the album's fourth single on 27 July 2012.[1] It features English recording artist Example. The song spent two weeks at number two (held off by Wiley's "Heatwave") on the UK Singles Chart, becoming his fourth consecutive number-two single in the United Kingdom.[2] In Ireland, the song debuted at number one, becoming Example's first number-one single and Harris' second (first as main artist) in the country.[3]
Beginning with a melodic guitar-driven introduction, "We'll Be Coming Back" transitions into a "hard electro synth-fuelled chorus" featuring Example's vocals.[4]
Filmed in the Hollywood Hills in Los Angeles, California in June 2012,[5] the music video for "We'll Be Coming Back" stars Harris and Example as robbers. After burying what they've stolen, the two return at a later time to retrieve the goods to find that a female officer who had been tracking them has gotten to it first, leaving behind her badge as evidence.[1] In addition to the robbery, the video features a series of high-speed car chases and police confrontations.
Speaking to Capital in June 2012, Harris stated that they both wanted to "look cool" in the music video for "We'll Be Coming Back," and went on to say of the video premise: "we've got flash cars and it's the old two day trip to LA option."[6] With Example driving a Porsche and Harris driving aFerrari, several expensive cars were damaged during the filming of the video.[7] It was directed by Iranian film and documentary-maker Saman Keshavarz.[8] The video for "We'll Be Coming Back" premiered on 6 July 2012.
[edit]Critical receptionEdit
The song has been called the "soundtrack to the summer" by Music-news.com,[4] and a "summer anthem" by the Westmeath Examiner.[9] Digital Spygave the track a mixed review, describing it as "mildly enjoyable" but "a little stale."[10]
"We'll Be Coming Back" has been remixed by several producers and DJ's, including Jacob Plant, Killsonik, Michael Woods, and R3hab.[4] The mix by Killsonik fuses dubstep with the original.[11]R3hab created two remixes of the song, each being played for EDC NYC and EDC Las Vegas.
CD
We'll Be Coming Back
We'll Be Coming Back (Original Extended Mix)
We'll Be Coming Back (Michael Woods Remix)
We'll Be Coming Back (Killsonik Remix)
12" Picture Disc
Original Extended Mix
Michael Woods Remix
Jacob Plant Remix
Killsonik Remix
Digital download (released 29 July 2012)[12]
No.
Title
Length
1.
"We'll Be Coming Back"  
3:56
2.
"We'll Be Coming Back" 

(Original Extended Mix)

6:33
3.
"We'll Be Coming Back" 

(Michael Woods Remix)

5:18
4.
"We'll Be Coming Back" 

(KillSonik Remix)

5:32
5.
"We'll Be Coming Back" 

(R3hab EDC NYC Remix)

6:09
6.
"We'll Be Coming Back" 

(R3hab EDC Vegas Remix)

5:57
7.
"We'll Be Coming Back" 

(Jacob Plant Remix)

5:03
[edit]Release historyEdit